To Host an Image, you need to click the button as underlined in the below screenshot.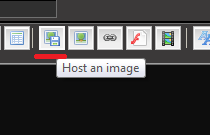 After that a box will pop up asking you to browse for the file you want to upload. After selecting what you want, click the upload button. Once it is done, it will give you a number of links. Look for the link titles Direct Link To Image. Copy the link and then paste it into your message wrapped with image tags. img tags are [img][/img] you must place the link in between them.
the way to post the picture like above is to do it like this
[img] https://i.servimg.com/u/f60/14/60/51/42/imge_h10.png [/img]. The only difference is that you must take away the spacing between [img] and the link.